Discover the benefits of puzzling
At the Clue Detective Puzzle Agency, we have chosen to accept our mission, which is to help you discover the benefits of puzzling.
The Online Puzzle Portal has 'landed'.  It contains a selection of original crosswords (quick, cryptic and general knowledge), codewords, sudoku and trivia quizzes.  Puzzles continually added.  They can be solved on a PC, iPad, laptop or smartphone, and access is available via a subscription.
Solving these great games will help you build your general knowledge and vocabulary.  It will also boost your logic, critical thinking and mental health.
We invite you to join the Clue Detective's puzzling community, and become part of a like-minded group that enjoys learning and keeping their brain active.  Enjoy solving Clue Detective puzzles all year round!
Build your own puzzling community
Solving puzzles is an activity that can benefit people of all ages in a variety of social (learning) environments.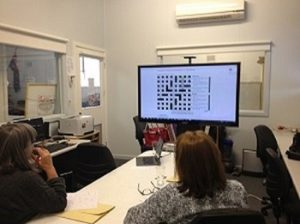 Our research has shown us that one of the most effective ways to solve puzzles is in a group.  Hence, we make our puzzling subscriptions available to organisations for the benefit of all their members.
A good example of this is a public library.  Once a subscription is purchased for everyone, patrons can access puzzles wherever they are.  Library staff may decide to organise a regular event such as a puzzle club which members can attend.  They are given the opportunity meet new people, and make new, like-minded friends.  Everyone can be involved in solving the puzzles, contributing from their own general knowledge and feeling a sense of collective satisfaction when the puzzle is completed.
Discover the benefits of puzzling for mental health
Every day in our community, we are reminded that mental illness exists. You might be watching a friend or family member struggle. You may even suffer yourself. So often, we see evidence of it being reported on the night-time news. 
At Clue Detective, in our own small way, we are helping to raise awareness about mental illness and how puzzling may help.  The Clue Detective is a proud sponsor of Australian Rotary Health's Lift the Lid on Mental Illness campaign.  We are working with ARH and local Rotary clubs to develop the Puzzling for Mental Health Initiative.