Clue Detective : Puzzling With a Modern-Day Twist
The crossword puzzle has come a long way since it was invented by Arthur Wynne in 1913. Technology has advanced so far in last 100+ years. There are many ways to solve a crossword that he could only have dreamt about.
At the Clue Detective Puzzle Agency, our mission is to create brain teasing word games that will entertain, challenge all ages, as well as teach the puzzler ways to expand their vocabulary and general knowledge.
Solving puzzles…. 21st century-style
Playing puzzles such as crosswords has traditionally been regarded as a rather solitary activity.  Solving your favourite daily puzzle has been seen as a pastime generally for one person.  However, many of our 21st century technological innovations make it possible for games such as crossword, codeword and sudoku puzzles to be adapted for a group.  All it takes is a little imagination.
At Clue Detective we offer a subscription with a difference.  It is one with a community focus in that you access our puzzles via your (school or public) library.

When your library adds Clue Detective puzzles to its collection of online resources, all you need is your barcode and pin.
This is members only content.
Not a member? Try a free sample.
Want to solve more puzzles? Ask your (public/school) library to subscribe.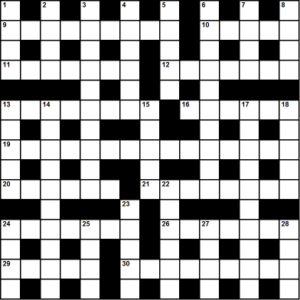 Interactive puzzling fosters learning and social connection
With the aid of our modern-day devices such as laptops, flat-screen TV monitors, HDMI cables and now Zoom meetings, it is very easy to play these iconic word games in a group setting.  Set up the puzzle in a place where everyone can see it, and then start solving.
Playing puzzles online has many educational, recreational and (mental) health benefits.  It is a wonderful way to bring people together.  Puzzlers can learn (new words and facts), and boost their knowledge at the same time.  Best of all, it is a lot of fun.
Puzzles are a wonderful learning tool
It is clear that puzzles are highly adaptable and can be used in a variety of (21st century) formats. Puzzling can used in any learning situation, such as the classroom or a private tutoring scenario.  At Clue Detective, our aim is to design puzzles that our puzzlers want to solve. We specialise in tailor-made puzzling activities, especially those based on the school curriculum.  We are delighted to be associated with the QualifiedTutor Community; and are very much looking forward to being involved in their Love Tutoring Festival, which is coming up in January 2022!
Puzzling : a COVID-safe activity for all
With our daily movements being restricted (on a global scale) due to COVID-19, solving puzzles is the ideal way to help you stay occupied
Puzzling can be enjoyed individually, but by using the 21st century solving methods we have mentioned, it is very easy for groups of friends or family to connect and enjoy some quality time together.  You can even form a Zoom puzzle club at your library.
Solving puzzles is also a great opportunity to actively learn whilst also having fun.
Please get in touch
We love to hear from all our puzzlers.  If there is a Clue Detective puzzle you particularly enjoy solving, please don't hesitate to get in touch.  We also invite you to join our Facebook community.