Welcome to the Clue Detective Puzzle Agency!
There is nothing more intriguing than accepting the challenge to decipher a coded message, or to put the pieces of the puzzle together.  As the puzzler, you will discover there are huge benefits.
Whether it be be letters – crosswords, numbers – sudoku, and/or numbers and letters – codewords/codebreakers, Clue Detective has you covered!
Learn more about Clue Detective subscriptions – individual and organisational plans are available.
 Clue Detective puzzles are a brilliant for:
improving language and literacy skills
building morphology (understanding of word structure)
helping build vocabulary building
boosting general knowledge
enhancing problem solving, logic and critical thinking
practising mindfulness, being in the moment with a puzzle
developing coping strategies to manage anxiety and mental health
encouraging lifelong learning
can be tailored for all ages and abilities
a community activity at your public library
Introducing new Clue Detective Codeword book series!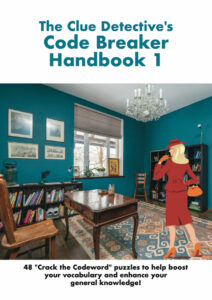 Clue Detective is very excited to announce the launch of its series of codeword puzzles which are now available for sale in the Lulu Bookstore.
Codewords are a fascinating blend of crosswords and code cracking! There are no crossword clues – instead you have to crack a code by studying the numerical patterns to fill in the crossword grid.
Solving these puzzles is an engaging and enjoyable activity, with many unexpected benefits. You will feel like a detective solving a case and a morphologist studying the patterns of words which will greatly help you boost your vocabulary and general knowledge.  They are also beneficial for improving mental health and alleviating anxiety.  Discover the numerous benefits of solving codewords today!
Contact us to find out more