Clue Detective introduces the CUSP Principle!
It is quite clear, solving puzzles has a huge range of benefits that can never be underestimated. 

Clue Detective has developed the CUSP Principle (Connect Up (with Others) to Solve Puzzles) that embraces the benefits of solving puzzles for health and wellbeing. 
Build a Puzzling Hub in Your Library
The school library is one of the first places where students begin their learning journey.  There are so many great resources on offer.  It provides the perfect opportunity for students to discover lifelong passions.  It can be anything from reading historical novels to studying genealogy.  Students can't do them all.  They need to decide what suits them best. 
Solving puzzles holds many benefits for the whole school community.  Not only will students enjoy working on their puzzle, it will allow them to make active use of the library and its collection.  All they need to do is ask the Librarian!
Puzzles for active reading and learning
It used to be that the school library was a place that simply offered resources in print format.  Not anymore.  It is now a technological hub of the universe, where a variety of electronic resources are provided to patrons, and 'digital literacy' is the buzz word of the age in which we now live. 
It is very important that we do not forget the word 'literacy', the ability to read and write.  Solving puzzles such as crosswords and codewords on an iPad or laptop helps the puzzler to do both.  In order to 'solve the problem', students need to be able to read, write and spell.  As they complete each puzzle, they are improving their skills in all these areas.  They provide an excellent activity for an English class.  Once students start solving codewords, they will be hooked! A huge advantage of digital resources is they can be supplied by the library, but accessed from anywhere!
Develop social skills in a puzzling group
Playing puzzles in a group has many advantages.  The library may like to consider offering an online puzzle club where students can get together at lunchtime, before or after school for a session of fun, educational mental gymnastics.  It is never too early to start puzzling and getting into the habit of warding off the threat of Alzheimer's.
Participants will be able to draw on their own general knowledge skills to help solve puzzles, which will give them a feeling of satisfaction.  In turn, they will also learn new words and facts. 
Students may even like to accept the challenge of solving cryptic crosswords.  These provide a great opportunity for them to develop their thinking and logic skills, as being a lot of fun to solve with friends.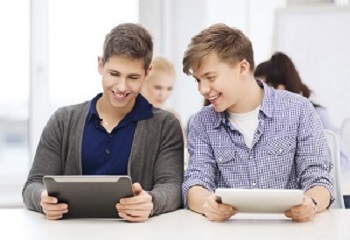 Promote health, wellbeing and self-esteem with a puzzle!
One of the roles of a school library is to foster student wellbeing. Inevitably, there will be students who are suffering from anxiety and other mental health issues.  They library provides a safe, welcoming and supportive environment.
Research shows

that 3 in 4 people with a mental illness develop symptoms before the age of 25. This strongly suggests that there will be students who are suffering from anxiety, depression and other mental health issues during their school years.  What better way to make them feel better!
Discover the benefits of forming a CUSP Club
Forming a CUSP club is a great way that help foster learning and social interaction among students. Puzzles are enjoyable, stress-free and non-threatening activities.  They allow students to engage with their peers, make new friends and let their brain to focus on something helpful and wholesome. If they have the tendency to suffer from mental health issues, this will hopefully allow these anxious feelings to pass.  If they do this regularly, they will develop a strong coping strategy for the times they know are difficult for them.  They will feel much better knowing that they have a plan in place to deal with it.
Solving puzzlers with others creates a place of belonging.  While puzzles are great for everyone, there will (inevitably) be those people who are living with conditions such as Aspergers.  When someone can become bored easily, puzzles offer a great way to help keep them more focused, stimulated and connected with others in a social situation, without having to feel out of their depth. Puzzling is an activity they can enjoy "side by side" with their peers. 
We encourage schools to adopt the CUSP principle in their learning environments, such as the school library. When an student (or staff member) is suffering from mental health issues, they can often feel disconnected and isolated. Keeping in touch with a group of friends over an engaging puzzle is the ideal activity to keep the problem at bay.